I received a complimentary Babycook Pro but all opinions are my own.
For my very first Mother's Day, way back in 2009, my wonderful husband gave me the Babycook Classic. I absolutely loved it. In fact, I loved it so much that it has taken up permanent residence on my kitchen counter which is really saying something because my counter space is very limited. I made all of Jake's baby food with it and once he stopped using purees I started using it to steam vegetables for us for dinner on a regular basis.
Now that Lucas is eating solids my Babycook is back in use making purees. As much as I loved my Babycook Classic I always wished that it had a larger capacity. Well evidently I wasn't the only one because Beaba now has the Babycook Pro which has a 4.7 cup capacity (the Classic has a 3.7 cup capacity).
If you want even more space, they have the Babycook Pro 2x which has TWO 4.7 cup bowls so you can make two things at once!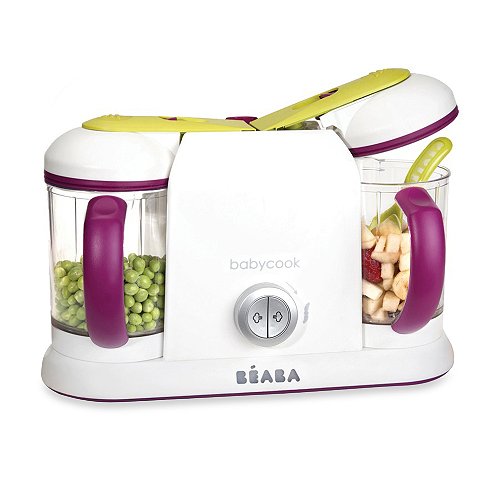 I had planned to write this post with some baby food recipes, but unfortunately, Lucas has been having some tummy problems so we are stuck on only mild foods, and no new ones for the foreseeable future. I didn't want to keep holding out on you about the beauty that is the Babycook so I decided to just tell you about it now and post some recipes once Lucas is back to normal eating.
I know that there are people who will say you don't need any special equipment to make your own baby food and while that may be technically true, trust me, you want a Babycook. It is one piece of equipment that can cook, puree, and reheat. On top of that, it is automatic. This means that if you start something steaming but then your baby wakes up so you have to step away from it, there is no need to worry. The Babycook will shut itself off, periodically clicking back on so that the food stays safe to feed your little one.
I know that it is kind of pricey, but it is so worth it! Not to mention the fact that they sell it at Bed, Bath, & Beyond so you can use one of those great 20% off coupons. When you look at cost per use you will more than get your money's worth. If you are anything like me, not only will you use it to make baby food, you will use it for years to come. I've even used mine to make a berry puree for berry mojitos. That's right, it's good for making baby food AND cocktails. Double win for Mommy!
Making your own baby food is not for everyone, but it is so worth it for me. I love knowing exactly what I'm feeding my little one. Saving money in the process is an added bonus. The Beaba Babycook makes it so easy to do. I make big batches of whatever baby food I happen to be making, freeze it in cubes and then I always have a variety of fresh, healthy foods ready to serve my little one. Having one machine that can cook the food as well as puree it makes it a no brainer. I highly recommend picking one up!
I'm linking up with Thrifty Thursday, Link Party Palooza,
Inspiration Monday, Mix It Up Monday, Craftastic Monday, and Busy Monday.